Mon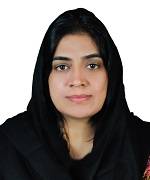 arch Business School Switzerland is happy to announce that Dr. Kausar Abbas has joined the Faculty as professor of Islamic Finance and Banking. Her areas of interest are Islamic Banking and Finance, Quantitative Research, Product Development and Islamic Economics. Dr. Kausar holds a PhD in Islamic Banking and Finance from International Islamic University Malaysia, a Master of Business Administration from International Islamic University Islamabad Pakistan and a Bachelor of Science from Bahauddin Zakariya University Multan Pakistan.
You May View Dr. Abbas's Extended Biography Here
She has presented multiple papers related to Islamic Banking and Finance at national and International level and has organized global forums on Islamic Finance, seminars, workshops and training sessions on Islamic Banking and Finance for different sectors since 2014. She has more than 10 papers published in refereed academic journals to her credit.
Please join us in welcoming Dr. Abbas to the faculty.