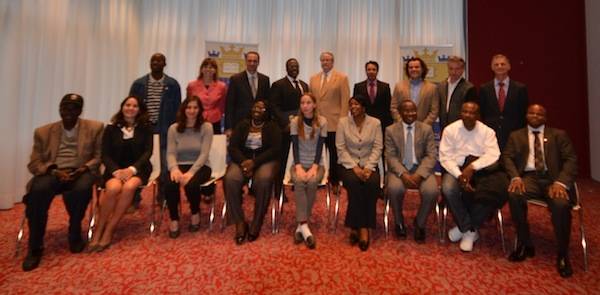 The recent doctoral seminar held in Zug the week of September 17th, 2012 was a great success with a total of 15 candidate participants coming from a variety of countries including: Botswana, Zambia, Ukraine, Canada, Spain, Uganda, France, India, Ghana, Switzerland, Nigeria, Germany, USA & Holland. Topics covered and discussed included the nature of doctoral studies, framing your doctoral study, blockers to success, research methodology & writing skills. Besides sharpening their research skills candidates also took the opportunity to solidify their friendships both during the seminar and outside while visiting the town of Zug.
The University looks forward to welcoming new groups of doctoral candidates at future doctoral seminars scheduled on location for Johannesburg in January 2013 and in Dubai in May 2013. We wish all the recent participants the very best with the new knowledge they have acquired and look forward to watching their doctoral studies take shape. The university would also like to thank Dr. Henderson (Dean of Studies), Dr. Dahringer (Dean of the Faculty), Dr. Beardsell (Dean of Academic Standards) Dr. York (Dean of Student Development and Dr. Antoniou (Professor of Management) for their direction and for instructing and assisting the candidates during the sessions. Also, a very special thank you to Mr. Marcel Cueni, the Director of Operations at Monarch Business School Switzerland for all the work behind the scenes that was crucial in helping to make the seminar and sessions such a success.
You May View The Larger Photo Album Of The Seminar & Social Events Here!