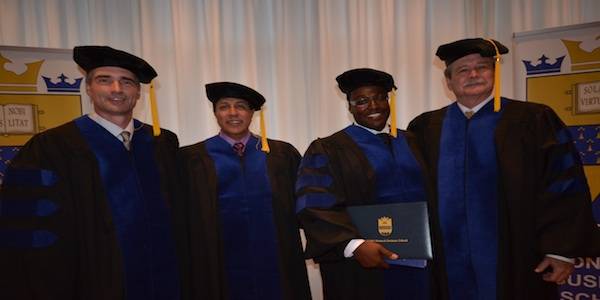 It is with great pleasure that the University announces the recent convocation of Dr. Donald Oxford York and Dr. Roy Bhikharie. The convocation was held in Zug on September 22nd, 2012. Present at the convocation were a room full of doctoral candidates, faculty members and family and friends.
Dr. York is a graduate from Canada with great distinction. His dissertation is entitled, "The Emergency Medical Services: A Praxis Exploration of Leadership in Prehospital Care Environments". Dr. York studied the intricate aspects of leadership and responsibility and how that unfolded within the high stress EMS and EMT environments. Dr. York also completed his M.Phil. in Business Research with Monarch. Upon graduation Dr. York has entered the faculty at Monarch Business School Switzerland as the Dean of Student Development.
Dr. Bhikharie is a graduate from Suriname. His dissertation is entitled, "Managing Paradigms To Create Work-Life Synergies in Executive Counseling: A Hermeneutic and Individual Phenomenological Approach". Dr. Bhikharie focused on the effect of shifting paradigms on the process of creating better integration of work-life balance amongst executives. Dr. Bhikharie returns to his career of professional counseling.
The university is delighted to have these new doctoral graduates and we look forward to hearing more positive news concerning their academic, professional and personal accomplishments in the near future.