Monarch Business School is happy to announce the launch of the Doctor of Information Technology program.
The Doctor of Information Technology (PhD) is a degree that marks achievement in independent thinking in all fields related to the creation, use, and management of information and of the technology involved. It includes the fields of strategic information management, networking and collaboration, social media and systems, security of networks and information, enterprise systems and management, global systems and technologies, software and hardware systems and technologies, Internet technologies, intelligent systems and multi-agent systems, and innovation and future directions in the use of these technologies.
The program is designed to be an achievement in constructive and critical thinking for individuals with interest and expertise in information technology who can develop a program of innovative research with the guidance of experienced advisors. The program will develop practitioners and teaching faculty with very high levels of analytical expertise in specific fields of information technology.
Candidates pursuing this degree are interested in examining the critical issues and problems of business and society from a technological perspective. Candidates entering the program open themselves to positions within the Executive level of industry (CIO, CTO), professors within academic institutions, directors of think tanks & NGOs/CSOs organizations, members of the Board of Directors and positions of responsibility within government agencies. The defining characteristics of the program are the desire to understand the implementation of technological change and its effects in bringing about a more integrated world. Characteristics of the program include:
Professional Research Orientation
Dissertation Based
Immediate Entry To The Research Phase of the PhD
See The Program Information Page By Clicking Here
Program Supervisor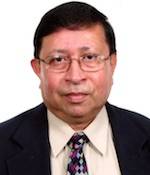 Dr. Nag holds a Bachelor's and Master's degrees in Electrical (Electronics) Engineering from the University of Calcutta (Kolkata) in India, and a Ph.D. in Management Science & Information Systems from the University of Maryland at College Park in the USA. He has worked in industry as an engineer in an electronics manufacturing facility, at times playing leadership roles in design engineering and quality management. He has also worked as a senior research analyst in Washington, DC, in software simulation research on policies for reporting and debate in the US Congress. He has been in academics for over 25 years teaching a variety of graduate and undergraduate courses covering a wide range of topics in the broad areas of Operations Management and Information Systems. He has advised and guided a number of student research papers and doctoral dissertations. He has over 20 research publications in leading journals including: European Journal of Operational Research, Decision Support Systems, Decision Sciences, and Journal of Management Information Systems. He is the author of a comprehensive text on Operations Management and is now working on his second title in Information Systems. He is also a member of the review panels and editorial boards of a number of leading journals. His research interests are diverse within the general areas of Operations Management and Information Systems, including topics such as: Decision Support Modeling and Systems, Multi-Agent Systems and Trading in e-Procurement, Business Intelligence, Human-Computer Interactions and Business Performance, Routing and Scheduling Models, Genetic Algorithms, Data Mining Applications, Supply Chain Management, Production and Inventory Management, Logistics and Optimization, Manufacturing and Service Systems Optimization. He remains always open to new ideas for research. He is an active member of INFORMS and IEEE, participating in the activities of the local chapters and in attending the national and international conferences, with active participation in the special interest groups. He is a former Chair of the Artificial Intelligence Section of INFORMS, and a former Board member of the INFORMS Computing Society. He is also a former Assistant Executive Director of POMS, the Production & Operations Management Society.