Monarch Business School is happy to share the recently approved research proposal on innovation in India by Doctoral Candidate Mr. Ashish Thomas. The research covers the importance of middle managers in creating innovation and fostering economic growth for the country.
Entrepreneurs play a significant role in most economies. This role is even more critical in a developing economy like India. Studies show that at a personal level, entrepreneurs increase the skill capacity, creativity, self-discipline, and independence of their societies (McGrath & McMillian, 2000). These characteristics permeate to have a macro-economic impact that helps the society as a whole develop its capabilities (Christiansen, Ojomo & Dillon, 2019). India is a culturally diverse, democratic, and economically ascendant nation. Academicians and business experts agree that India stands at the crossroads of becoming a ten trillion-dollar economy (PWC, 2014). Researchers also agree that India must mitigate several barriers if this dream is to be realized. The much-touted Make In India campaign launched by Prime Minister Modi is an example of a national effort to help India become an innovating and entrepreneurial nation (Rao, 2017). Management thinkers like Pinchot (1985) and Geisler (1993) introduced the idea of intrapreneurship as a mechanism to unleash entrepreneurial energy within a corporation. The operational and strategic importance of the middle managers as a connector of the mission of the firm and the execution of its imperatives is well known (Rogers, 2003). For decades innovation has been a buzzword in Indian corporations that promises much but delivers very little (Irani, 2019). Therefore, the need seems to be for a contextualized model that acknowledges cultural imperatives, that may aid intrapreneurial middle managers in India to innovate.
The contemplated research examines the above through an analysis of the seminal literature from innovation model theories, theories on India's cultural context, and theories in education. The research seeks to construct a new conceptual model or framework that better integrates theory with praxis. The contemplated research will use a triangulated approach, including literature review, content analysis, and interviews of selected individuals. Ultimately this research seeks to develop a contextual framework that may unleash middle managers in India to champion innovation.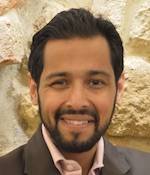 Mr. Ashish Thomas is a Dual PhD / DBA Candidate. He holds a Bachelor of Commerce from the University of Mumbai and a Master of Arts in Organizational Leadership & Management from Sam Higginbottom University of Agriculture, Technology & Science. He also holds a certificate in Design Thinking. At present, he holds the position of General Manager at Lifeway India PVT. Concurrently, he holds the position of Trainer and adult Learning Facilitator at Rethink Solutions.