It is with pleasure that Monarch Business School Announces that Dr. Gary Keller has recently presented his latest research paper at the The Western Business & Management International Research Conference In Dijon, France on September, 20-21, 2019. The research is entitled: "Comparing the Total Activity Rates and Grade Outcomes of Students at a Rural University: A One Year Analysis".
THE ABSTRACT:
The primary purpose of this research paper was to evaluate if there were statistically significant relationships between the amount of time students spent on course assignments and final course grades. The researcher utilized data gathered from the University's Canvas Learning Management System (LMS) for 11 courses (5 face-to-face, 6 online) taught by this researcher at a rural university during 2018. The total population consisted of 308 students. There were three main discoveries derived from this exploratory research investigation; a) there was no statistically significant relationship found between the amount of time (in hours) spent by students and their course grades regardless of modality; b) no statistically significant difference was found between online and face to face students' grades and; c) there was no statistically significant difference between the grades between graduate level face to face students and online students. Two suggestions for future research on this topic are suggested; a) contrast the amount of time (in hours) that faculty members spend on an LMS moderating a course, assignment grades and etc. to determine if a relationship exists between time spent on the LMS influences the distribution of grades; b) expand the number of subjects in the research population and the amount and diversity of courses observed to create a baseline from which further research can be conducted.
ABOUT DR. KELLER: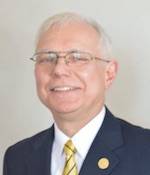 Dr. Keller holds the position of Professor of Management Studies and is a recipient of the "Professor of the Year" award from Monarch Switzerland. He holds a Ph.D. in Business Administration from Northcentral University and a Master in Management Science from Cardinal Stritch University and a Master in History from the University of Wisconsin at Milwaukee. Dr. Keller is presently a Professor at Eastern Oregon University, USA. He has taught on a full-time basis at the university since 2012 and previously for 12 years at Cardinal Stritich University in Milwaukee, WI USA. Dr. Keller teaches global business policy and strategic management, management and leadership and organizational behavior at both the undergraduate and graduate levels. In 2002, the ACBSP selected Dr. Keller as the Midwest Region 4 Teacher of the Year. Dr. Keller has written curricula for several universities and serves as a Master thesis director directing the capstone papers of more than 800 students. In 2015, Keller was selected to be included on the Fulbright Specialist Roster and was chosen to be included in the United Nations System Staff College (UNSSC) roster of Instructors for the delivery of training and learning activities on management topics.