It is a pleasure for Monarch Business School to welcome Dr. Panchali Das to the Post-Doctoral Fellowship program.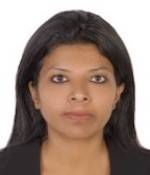 Dr. Panchali Das is a Post-Doctoral Fellow and Doctor of Literature Candidate. She holds a PhD in Business Administration from the Faculty of Commerce, Gauhati University, India. She also holds an MBA from School of Management Sciences, Central University, Tezpur, Assam, India and a Bachelor of Arts in English from Lady Shri Ram College for Women, Delhi University, New Delhi, India. She has completed the faculty development program at the Indian Institute of Management (IIMA) in Ahmedabad, India. She has been an Assistant Professor & Coordinator for the BBA Program in Marketing at the Emirates College for Management & Information Technology in Dubai, UAE. She has been a Lecturer and Assistant Professor in the past at: Rai Business School; the Institute of Information Technology and Management; and the Apeejay Institute of Mass Communication in New Delhi. As an active researcher she has many published papers in academic journals as well as papers accepted and published at various academic conferences.
Monarch looks forward to the planned research that she will undertake at Monarch furthering her interest in Corporate Social Responsibility.