Post-Doctoral Fellowship in Complex Systems & Managerial Decision Making
Managerial decision making within complex systems typifies the nature of business in a globalized world. Often these managerial decisions are complex in nature: you need to make multiple and interdependent decisions rather than a single, one-shot decision. Often feedback on decisions is delayed thus making learning by doing a difficult task. In this environment uncertainty abounds.
The Study of Complex Systems and Managerial Decision Making fellowship program is aimed at supporting research, both theoretical and empirical, directed towards finding the "solutions" to the complex, dynamic tasks that today's 21st century's organization face on a continual basis.
The program embraces a multidisciplinary approach with an emphasis on design, development, and the use of dynamic models in the study of complex dynamic tasks, there is no focus on a particular filed of research.
The Monarch Postdoctoral Fellowship in Studying Complex Systems & Managerial Decision Making is geared to provide postdoctoral training, an opportunity to broaden research experience along with the opportunity to gain additional skills to pursue a productive scholarship-based academic or industry career. The Fellowship is for existing Ph.D. holders.
Monarch Postdoctoral Fellows will engage in a research thesis jointly decided by the student and the relevant faculty of Monarch Business School. Required output of the Fellowship program is the development and publishing of two academic articles from the thesis work: one published within the in-house Monarch Management Review with the second published in a recognized peer-reviewed journal.
Eligibility:
Open to existing Ph.D. holders in a relevant field
Supervisor:
Dr. Hassan Qudrat-Ullah
Research Mode:
External
Duration:
2 Year(s)
Application Fee:
100 Euros (Application Fee Payment)
Program Fee:
3,500 Euros Per Year (Note 1)
How to Apply:
Submission of the Fellowship Application Form (Link)
Submission:
Post-Doctoral Application Form

Please note that due to the scale of applications for these positions, we shall only reply to applicants who appear to match our faculty research skills and interests.

Note 1:
Candidates are charges an administration fee of 100 Euros for each wire transfer or Paypal transfer to off-set transfer fees. Candidates are also charged a 250 Euro annual fee for IT, Library and Alumni Network fees.
Program Supervisor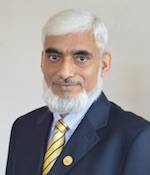 Dr. Hassan Qudrat-Ullah holds the position of Adjunct Professor of Management Studies at Monarch Business School Switzerland. He holds a Ph.D. in Management from the National University of Singapore (NUS) and an M.Phil. in System Dynamics from the University of Bergen in Norway. He also holds a M.Sc. in Applied Mathematics from B.Z. University, Multan, Pakistan and a B.A. in Mathematics from the University of the Punjab, Pakistan. Dr. Qudrat-Ullah completed his post-doctoral training at Carnegie-Mellon University, USA. At present, he is an Associate Professor of Management at York University in Toronto, Canada. He has also held visiting or adjunct professorships at: King Fahd University Saudi Arabia, Konkuk University Korea, Walden University USA, Durham University UK, University of Liverpool UK, University of Surrey UK, the National University Singapore, University of Chicago Singapore, and the University of Bergen Norway. Dr. Qudrat-Ullah is the recipient of many merit and teaching awards as well as being a referee for several journals and conferences.