It is a pleasure for Monarch Business School to announce that Richard van Ostende, Doctor of Literature Candidate, has published a book on business expansion in China. We are happy to acknowledge his good work and encourage him to further contribute to the business press on China in the future.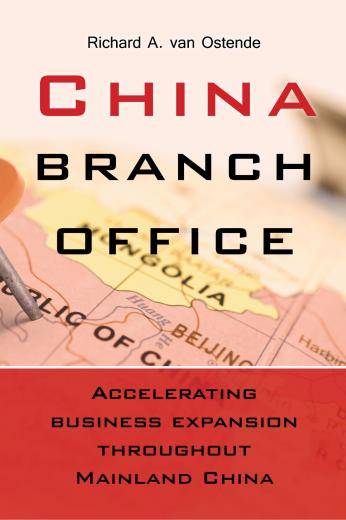 Abstract
Organizations seeking expansion for their operations in China have a number of options to facilitate business development. Both domestic and foreign invested companies consider branch offices to be a popular investment vehicle for fast expansion in China due to their comparable low incorporation requirements including no capital requirements and easy maintenance, but allow for a formal representation. The information in this publication is not exhaustive, but aims to provide entrepreneurs with an in-depth understanding of the purposes China based branch offices serve and the advantages and limitations of the different types of branch offices and set-up of administrative organizations.
Dr. Richard van Ostende holds the position of Professor of China Business Studies and Director of the Monarch China Business Institute. Dr. Van Ostende completed his Doctor of Business Administration and Master of Philosophy in Business Research at Monarch Business School Switzerland. He also holds a Master of Business Administration from Business School Netherlands and a Bachelor of Economics in Financial Services Management from Inholland University of Applied Sciences.
Dr. van Ostende's areas of interest revolve around International Business in the greater China region with a focus on the fields of Foreign Direct Investment, Foreign Market Entry and Strategic Decision Making. Dr. van Ostende is a recognized regional expert for China investment and trade with many publications to his credit. He has been named International Friendship Ambassador for Nanjing Municipality; Ambassador for Investment Promotion of Yangzhou Municipality; Ambassador for Investment Promotion of Nanjing Gulou District; and Strategic Partner for Investment promotion of Nanjing Jianye District. Dr. van Ostende is a recipient of China's Jiangsu Province Youth Friendship Award.
Professionally, Dr. van Ostende holds the position of Chief Representative at the Netherlands Trade and Investment Office in Nanjing, promoting bilateral trade and investments between the Netherlands and China's Jiangsu Province. In the past, he has held senior managerial positions including Finance Director Asia Pacific at Formel D Group and Finance Manager Asia at Vestas Aircoil China.