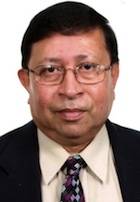 It is with great pleasure that the University announces that the Academic Council recognizes Dr. Barin Nag as "Professor of the Year" for the academic year of 2013-2014. Dr. Nag is a seasoned academic and experienced researcher who shows exemplary dedication to the achievement of his student's work.
Dr. Nag is being recognized with the award for his support of the University, and for his professional conduct as a course professor and doctoral candidate supervisor. Dr. Nag is also known as a dedicated researcher having been published in a variety of peer reviewed journals over the years as well as producing his own textbook on Operations Management. He has been a Visiting Professor at both John Hopkins University and the University of Maryland.
His dedication to his students provides an example for new doctoral graduates as well as colleagues to follow. The Academic Council and the administration wish Dr. Nag the very best for the future and we remain confident that his commitment to his students will continue to be of the highest quality in the years to come.