It is with great pleasure that the University announces that Dr. Hassan Qudrat-Ullah, Professor of Research Methodology, has edited a new book on Energy Policy Modelling with Springer. The book entitled Energy Policy Modelling In The 21st Century is published within the "Understanding Complex Systems" series.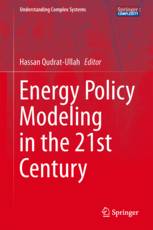 The book includes:
Outlines on how modeling applications work and improve energy policy in public decision making
Novel approaches to energy policy modeling from a systems and agent-based approach
Provides several different examples of modeling approaches as well as models
The Book May Be Purchased Here
ABSTRACT:
The roles and applications of various modeling approaches, aimed at improving the usefulness of energy policy models in public decision making, are covered by this book. The development, validation, and applications of system dynamics and agent-based models in service of energy policy design and assessment in the 21st century is a key focus. A number of modeling approaches and models for energy policy, with a particular focus on low-carbon economic development of regions and states are covered. Chapters on system dynamics methodology, model-based theory, fuzzy system dynamics frame-work, and optimization modeling approach are presented, along with several chapters on future research opportunities for the energy policy modeling community.
The use of model-based analysis and scenarios in energy policy design and assessment has seen phenomenal growth during the past several decades. In recent years, renewed concerns about climate change and energy security have posed unique modeling challenges. By utilizing the validation techniques and procedures which are effectively demonstrated in these contributions, researchers and practitioners in energy systems domain can increase the appeal and acceptance of their policy models.