Dr. Henderson, Dean of Studies and Dr. Albert Eger, Professor Emeritus in Urban Land Economics from UGSM-Monarch Business School Switzerland represented the University at the 2011 Greenbuild Conference in Toronto, Canada.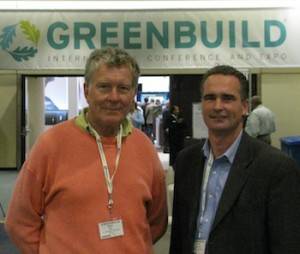 Greenbuild is the world largest conference and expo dedicated to green building now celebrating its 10th anniversary. The conference started with an opening plenary at the Air Canada Centre hosted by the U.S. Green Building Council (USGBC) along with the Canada Green Building Council. Guest speakers included, NY Times reporter and Pulitzer Prize-winner, Thomas Friedman, speaking about the necessity of the green revolution,
"We're not having a green revolution (right now); we're having a green party. In revolutions, people get hurt – companies are forced to change or they die." He said, "Our revolution will be here when the word green disappears…..The challenge we have today is that we must become the regeneration."
Friedman also touched on consumer demand and how chain reaction can occur from rising food prices to political instability to rising oil prices to eventual collapse of the world we know. Professors Eger and Henderson by attending the conference echo Friedman's sentiments and restate the dedication that Monarch has to the importance of educating the business leaders of today and tomorrow to incorporate positive changes into their business models so that they can marry both future security for the planet and profitability for companies while keeping a strong moral and ethical orientation.