On behalf of UGSM-Monarch Business School Switzerland, Dr. Julie Beardsell, Professor of IT Strategy and Member of the Academic Council at Monarch Business School Switzerland, recently spoke at the CIONET annual event held on the 8th of October in Amsterdam, The Netherlands.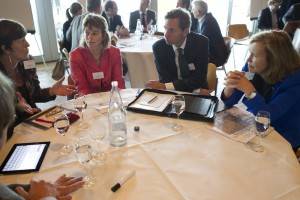 Several leading industry speakers shared their vision and experience of the future role of the CIO and Dr. Beardsell joined some lively debates on topical subjects, particularly from a gender diversity standpoint. Dr. Beardsell works together with CIONET to pick up the challenge to make the ICT sector more attractive to women, addressing the skills gap and the need for greater diversity, bringing attention to the message of Neelie Kroes, European Commission Vice-President responsible for the Digital Agenda, on how the ICT sector badly needs skills and the importance to strive for 'more women in IT'.

CIONET is the biggest community of IT executives in Europe, with a membership of over 3,500 CIOs, CTOs and IT Directors.