Post-Doctoral Fellowship In Critical Management Studies
Critical Management Studies (CMS) is an approach to research that is "characterised by scepticism concerning the morality and ecological sustainability of prevailing forms of organisation" (www.cms.aom.org). Further, CMS provides a practical and scholarly platform for the critical exploration of unethical and exploitative or inequitable management practices.
Structural features of contemporary society, such as the profit imperative, patriarchy, racial inequality, and ecological irresponsibility, often encourage managers to see organizations as instruments of domination and exploitation. Driven by a shared desire to change this situation, we aim in our research, teaching, and practice to develop critical interpretations of management and society and to generate radical alternatives. Our critique seeks to connect the practical shortcomings in theories of management and managerial practices to the demands of a socially divisive and ecologically destructive system.
Monarch Postdoctoral Fellows will engage in a research project jointly decided by the student and the relevant faculty of Monarch Business School. Required output of the Fellowship program is the development and publishing of two academic articles per year: one published within the in-house Monarch Management Review with the second published in a recognized peer-reviewed journal.
Eligibility:
Open to existing Doctoral holders in a relevant field
Type of Fellowship:
Non-paid Fellowship
Supervisor:
Dr. David Bevan
Research Mode:
External
Duration:
1 or 2 Year(s)
How to Apply:
Contact the Administration
Deadline:
Open Until Filled
Contact:
fellowships@umonarch.ch
Submission:
Post-Doctoral Application Form

Please note that due to the scale of applications for these positions, we shall only reply to applicants who appear to match our faculty research skills and interests.
Supervisor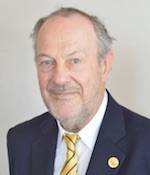 Dr. Bevan holds the position of Dean of the Faculty at Monarch. Professor Bevan's doctoral dissertation (King's College London, 2007) explored the FTSE100 companies for material evidence of managerial accountability to stakeholders outside the firm.  Dr Bevan has supervised DBA/PhD students and junior faculty in research on workplace stress, life/work balance, exploitative HR practices, corruption and a range of sustainability/CSR questions from a CMS perspective. He holds a Ph.D. and M.A. from King's College London as well as a M.Sc. from Sheffield Hallam University. Prior to this Dr. Bevan was a professional businessman with over 30 years experience in business development in the U.S. and U.K. He has held visiting faculty professorships, including posts at: DePaul University in Chicago, Kingston Business School UK, HEC Paris, King's College London, and Royal Holloway/University of London International. He has authored and co-authored multiple peer-reviewed journal articles written from CMS perspectives, and contributed chapters on CMS subjects to management texts since 2004.