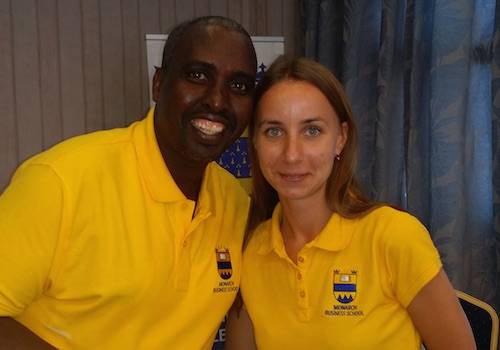 Monarch Business School Switzerland is happy to announce the introduction of an affordable and 100% fully online Bachelor of Applied Management program. The program includes 180 credit hours of 12 three months courses for a total of 36 months.
Monarch is responding to strong student demand for a Bachelor program that can be completed 100% online. The program can be started at any time and the student may take up to 60 months to complete the credit hours. The design of the program is asynchronous which means the student does not need to be online at specific times. This creates a tremendous amount of flexibility enabling the student to complete the program while continuing to work or manage other demands on their time.
The Bachelor of Applied Management program is an exciting approach to management training that enables Monarch to bring its world-class Graduate instruction to a new group of students. Monarch will engage Bachelor students on themes of ethics, community, leadership and business strategy to build the next generation of community minded leaders. If you are searching for a Bachelor program in management that is online, flexible and modern in its approach then the Monarch BOAM is the program for you.

Dr. Jeffrey Henderson, Dean of the Faculty
Program Design
The Bachelor of Applied Management program is an uniquely designed undergraduate course of study. It is specifically modeled to provide the student with the critical lessons required to master the important skills to be a success in business in the 21st century. Businesses today whether local or global face a greater challenge maintaining a satisfied workforce, working within different cultures, addressing the competitive landscape and maintaining an ethical and community centric focus than ever before. The Bachelor of Applied Management at Monarch Business School strives to address this reality by offering a set of unique courses that are applied in nature. That means the student will develop not just the tools required to be a success in management but also the interpersonal skills to be a strong leader sensitive to their surroundings and ethical obligations.
Courses Year 1
Principles of Management
Business Communication
Human Resource Management
Harnessing Technology
Courses Year 2
Understanding People At Work
Buying & Selling Decisions
Leading With Intelligence
Small Business Management
Courses Year 3
Organizational Change
Online Marketing
Sustainability & Innovation
Strategic Management
Academic Streams
Monarch has designed options for new Undergraduate students in the form of a Certificate in Applied Management and various Diplomas. These enable the student to begin their academic learning without committing to a full 36 months Bachelor degree. Upon completion of the Certificate or Diplomas the student may continue on to complete the Bachelor Degree without interruption. Interested students may apply to the Certificate and/or Diploma using the Undergraduate Application Form.
Certificate
Students have the possibility of completing a Certificate of Management which includes 3 courses for 45 credit hours. If the student wishes they may elect to enroll in any of the Bachelor Diplomas or straight into the Bachelor Degree upon completion of the Certificate.
Certificate In Applied Management
Diplomas
Monarch has designed several Bachelor Diplomas of 6 courses each for 90 credit hours. These Diplomas contain a subset of the bachelor degree courses around various themes. Available Diplomas include:
Diploma In Applied Management
Diploma In Human Resource Management
Diploma In Marketing
Diploma In Entrepreneurship
Diploma In Strategic Management
Program Start Date
The program has a rolling admission and be started at any time.
Duration
Standard duration for each type of program varies. The programs are flexible and allow the student to complete within a suitable time frame. There are no extra costs or fees for extending beyond the standard 12 week course duration as the tuition is paid per course regardless of the course duration.
Bachelor program between 36 and 60 months
Diploma programs between 18 and 36 months
Certificate program between 9 and 18 months
Study Mode
The study mode for the program is 100% fully online.
Assessment
Assessment is completed through mid-term and final exams that are taken online. There is no requirement to visit an exam center.
Cost
Tuition fees are paid in advance before the commencement of each course based on the ECTS. Each course is equivalent to 15 ECTS. The tuition fee per ECTS is 28 Euros. Thus, the total tuition fee by program type is:
Certificate: 45 ECTS * 28 Euros = 1,260 Euros, or 420 Euros per course.
Diplomas: 90 ECTS * 28 Euros = 2,520 Euros, or 420 Euros per course.
Degree: 120 ECTS * 28 Euros = 5,040 Euros, or 420 Euros per course.
* There is a 4% additional electronic transaction fee applied when the tuition is processed.
Program Open To
Graduates from high school or college (non-university programs);
Graduates from recognized Associate programs;
Graduates from Bachelor level degrees other than management;
Graduates from Business programs from professional bodies.
APPLY NOW
Become A Part Of Monarch Today And Advance Your Career To New Heights.